October 17, 2021 by DeWayne Hamby on www.patheos.com
Greg Kinnear, who recently appeared in the faith-based dramas "Heaven is for Real" and "Same Kind Of Different As Me," will star in Open River Entertainment's upcoming biopic "Sight." The movie, produced by Darren Moorman and David Fischer, recently commenced its six-week shoot in Vancouver, Canada. "Sight" features a predominantly Chinese cast shot in English and Mandarin, and also stars Terry Chen as Dr. Ming Wang.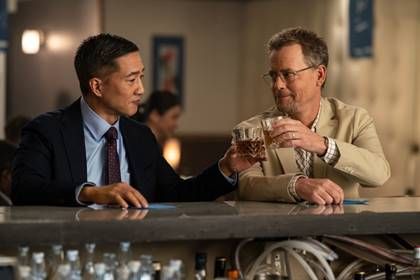 Greg Kinnear, Terry Chen star in 'Sight.' Image courtesy of Rogers & Cowan PMK.
The Oscar-nominated and Emmy-winning Kinnear will play the role of Misha Bartnovsky, Dr. Wang's medical partner, friend, and mentor. Chen made his debut in a supporting role as 'Ben Fong-Torres' in the much-lauded "Almost Famous" directed by Cameron Crowe. He also recently co-starred in "Falling" together with Viggo Mortenson who also wrote and directed the film.
"The life of Dr. Ming Wang is a remarkable story of hope," says Fischer, Open River founding partner and producer who developed "Sight." "In a time when the world is hungry for stories of conversion and redemption, 'Sight' explores how we must come to peace with our past before we move forward in the present."
Written and directed by Andrew Hyatt ("Paul, Apostle of Christ," starring Jim Caviezel and James Faulkner), "Sight" is based on the inspiring true story of Asian American Dr. Ming Wang. The film chronicles Dr. Wang's rise from poverty and violence growing up in 1960's China, to his migration to the U.S. He overcame racial discrimination to become a world-class surgeon and medical entrepreneur who would design new technology to help restore sight in millions of people's lives.
"I am humbled and thrilled to be a part of bringing Dr. Wang's incredible true-life story to the screen," says Hyatt. "The universal themes of hope and endurance will undoubtedly resonate with audiences around the world. My grandmother grew up in Shanghai and to be able to honor her in some way by telling a story that echoes her own experience is a very special opportunity."
Dr. Wang's biography, "From Darkness to Sight: A Journey from Hardship to Healing," was released in 2016. The book synopsis mentioned his incredible story of faith and perseverance.
As a teenager, Ming fought valiantly to escape one of history's darkest eras – China's Cultural Revolution – during which millions of innocent youth were deported to remote areas to face a life sentence of poverty and hard labor. Through his own tenacity and his parents' tireless efforts to provide a chance of freedom for their son, Ming eventually made his way to America with $50 in his pocket and an American dream in his heart, where against all odds he would earn a PhD in laser physics and graduate magna cum laude with the highest honors from Harvard Medical School and MIT. He embraced his Christian faith and tackled one of the most important questions of our time – Are faith and science friends or foes? – which led to his invention of a breakthrough biotechnology to restore sight.
"I am overwhelmed that a movie is being made about my life," said Dr. Wang. "Living through the many dramatic events that I experienced, I never expected them to be told to the world, especially in such a poignant way. I hope this movie might pave the way to inspire more untold stories to be heard and to inspire others to persevere and follow their dreams."
Moorman of Reserve Entertainment and Fischer will serve as producing partners. Moorman has worked with industry leaders such as MGM, Lionsgate, and Paramount Pictures producing more than a dozen films, including "Same Kind Of Different As Me" which also starred Kinnear as the lead alongside Renée Zellweger and "Blue Miracle" starring Dennis Quaid.
Dan Mark and Rachel Tan will co-produce and Dr. Ming Wang will executive produce.
"Sight" is currently slated for a 2022 Q2 theatrical release.