By Robert StringFellow, Nashville Christian Family, March 31, 2023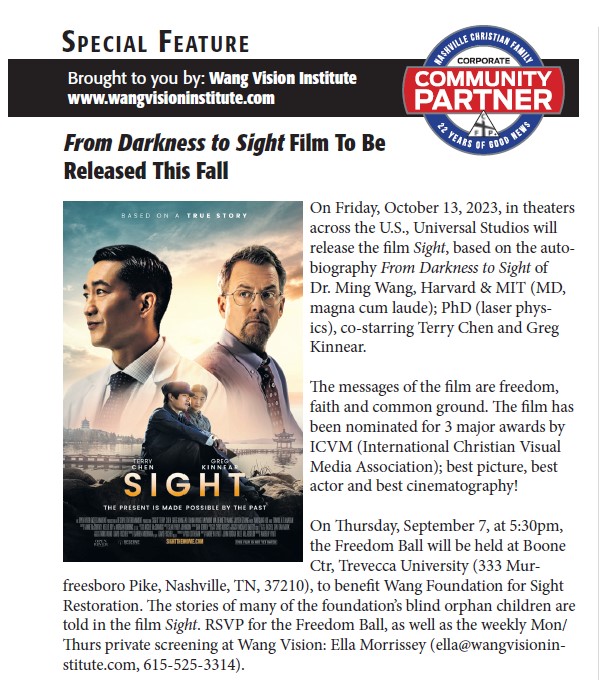 On Friday, October 27th in theaters across the U.S., Universal Studio will release the film "Sight" (based on the autobiography "From Darkness to Sight" of Dr. Ming Wang, Harvard & MIT (MD, magna cum laude); PhD (laser physics),co-starring Greg Kinnear)(www.drmingwang.com). The messages of the film are freedom, faith and common ground! The film has been nominated by ICVM (the "Christian films' Oscar")for 3 major awards (best picture, best actor and best cinematography)!
9/7 Thurs 5:30pm, the Freedom Ball will be held at Boone Ctr, Trevecca University (333 Murfreesboro Pike, Nashville, TN, 37210), to benefit Wang Foundation for Sight Restoration. The stories of many of the foundation's blind orphan children are told in the film "Sight". RSVPfor the Freedom Ball, as well as the weekly Mon/Thurs private screening at Wang Vision: Ella Morrissey (This email address is being protected from spambots. You need JavaScript enabled to view it., 615-525-3314).
Dr. Ming Wang is a Harvard & MIT graduate (MD, magna cum laude) and is one of the few laser eye surgeons in the world today who holds a doctorate degree in laser physics. The film "Sight"is based on Dr. Wang's autobiography "From Darkness to Sight", co-starring Greg Kinnear.
As a teenager, Ming fought valiantly to escape China's Cultural Revolution –during which millions of innocent youth were deported to remote areas to face a life sentence of hard labor and poverty. He came to America with only $50 and earned two doctorate degrees, one in laser physics and one in medicine, and graduated with the highest honors from Harvard Medical School and MIT.
Amniotic membrane contact lens, which Dr. Wang invented and for which he holds two U.S. patents, has been used by tens of thousands of eye doctors in nearly every nation throughout the world, and millions of patients have had their eyesight restored.
Wang Foundation for Sight Restorationhas helped patients from over 40 states in the U.S. and 55 countries, with all sight restoration surgeries performed free-of-charge. Dr. Wang was named the Kiwanis Nashvillian of the Yearfor his lifelong dedication to help blind orphaned children from around the world.
Ella Morrissey